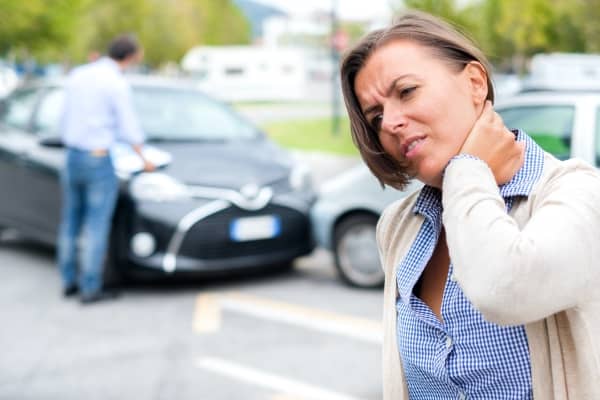 Whiplash Injury Attorney
Most car accidents result in the passengers and the driver getting jerked around. These sudden movements can result in serious injury to someone's neck, which we often call whiplash. If you have sustained a whiplash injury from a car accident or any other accident due to the negligence of another, you need to seek professional counsel from a highly-qualified personal injury attorney. The attorneys at Branch & Dhillon, P.C. are here to help you gain the compensation you deserve. Contact us today to get started with your free, no-obligation consultation to go over the facts about your individual case.
What Is Whiplash?
Whiplash is an injury that occurs to someone's neck due to a dramatic and forceful back-and-forth motion. This is usually the result of a rear-end collision, but can also come from other types of crashes, such as from amusement park rides.
Common Symptoms of Whiplash
Whiplash is painful and can create different symptoms depending on the severity of the injury. Here are the most common symptoms of whiplash:
Stiffness
Pain in the neck that gradually gets worse with the movement of the neck or upper body
Headaches
Dizziness
Pain in the shoulders
Pain in the upper back
Tingling/numbness in the arms or hands
How Does Whiplash Happen?
Whiplash happens when you damage from any part of the neck. This can include any of the muscles, vertebrate, or connective tissue.
Treatment for Whiplash
Treatments vary depending on the severity of the injury. Most cases of whiplash leave the individual sore for a couple of days, which can be treated with painkillers and rest. For more severe cases, medical treatment, such as therapy or stronger medications, may be required.
How Long Do Symptoms Last?
Each individual case is different. Depending on the injury, symptoms can last anywhere from a few days to a few months. It is important to seek medical attention after an accident to ensure that you are getting the right treatment for your injury.
Compensation for Whiplash Victims
If you are looking to seek compensation for medical expenses and damages from your whiplash injury, your compensation amount may vary. The total depends on different factors such as:
Medical bills resulting from the whiplash
Future costs of medical expenses to treat the injury
Lost wages due to the injury
Lost enjoyment of life due to the injury
Compensation for pain and suffering
Whiplash Personal Injury Attorneys
Branch & Dhillon, P.C. is dedicated to ensuring that you gain the compensation you deserve. We work with you to gather the evidence needed to show that your injury was caused by someone else's negligence. Call our team today for a free, no-obligation consultation to go over your individual case. We also offer a no-win, no-fee policy, which takes away the risk of seeking compensation. You want a team that will fight for you, and no one is more dedicated than the team at Branch & Dhillon, P.C. so contact us today!