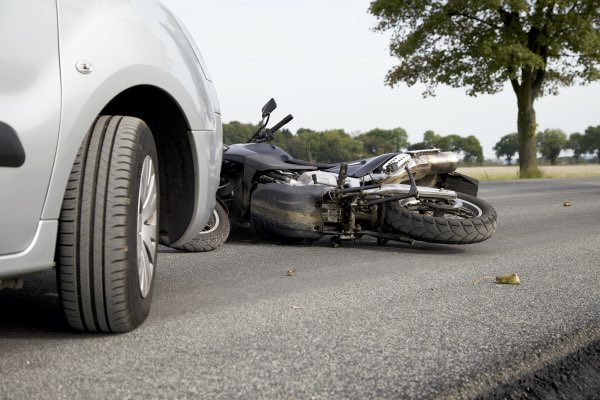 If you have been involved in a motorcycle accident due to the negligence of another driver, you may be eligible for monetary compensation for medical expenses and damages.
Many people are drawn to owning and riding a motorcycle for the thrill of an adrenaline rush. Along with the ability to save on gas, motorcycles offer an economical and exciting transportation alternative. Unfortunately, drivers and passengers of motorcycles do not have the same protection that a car offers. Due to the lack of protection, victims of motorcycle accidents face an increased risk of serious injuries, such as broken bones and possibly death. Contact the experienced personal injury attorneys at Branch & Dhillon, P.C for help claiming the compensation you deserve.
What Are the Risks of Riding a Motorcycle?
According to the National Highway Traffic Safety Administration and the Governor's Highway Safety Administration, motorcyclists are more likely to be involved in a fatal accident than drivers or passengers of a car. The rate is 28 times higher per mile driven. Unlike motor vehicles, motorcycles are light, which makes it easier for them to get thrown when struck. Also, without the encasement of a vehicle body or frame around them, drivers of motorcycles have less protection, which means they will feel the full force of the impact.
Motorcycles are also a lot smaller than traditional vehicles, making them more difficult to spot in heavy traffic. It is easy to lose sight of a motorcyclist, especially if they are weaving in and out of traffic or are hidden behind other vehicles or objects on the road.
Unfavorable road conditions can also be extremely dangerous to a motorcyclist because they can cause the rider to lose balance. Uneven road surfaces, small objects, and wet pavement are potentially hazardous as it is up to the rider to keep balance and control of the motorcycle while it is in motion. Without the added weight of the body of a car, a motorcycle does not have the force to keep the wheels on the ground when it encounters an obstacle.
Where Does Liability Fall in a Motorcycle Accident?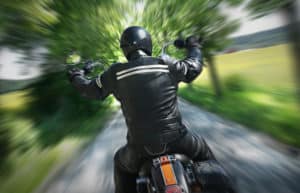 Liability in motorcycle accidents generally falls to the driver who was displaying negligence. This usually falls on the driver of a car or a truck because they have a higher duty to take care and notice of the motorcycle. However, motorcyclists can also be deemed the negligent party, especially if they were performing dangerous behaviors such as weaving in and out of traffic, driving while intoxicated, or running through a red-light.
As with vehicles, motorcyclists are required to follow all traffic safety laws, such as signaling to turn, abiding by traffic signals and stop signs, and keeping at least two car lengths of distance between themselves and other vehicles on the road. If a cyclist breaks these laws and is involved in an accident, they may be held partially responsible for the accident depending on the facts surrounding the case.
Motorcycle Accident Statistics
According to data taken from statistics reported by the National Highway Traffic Safety Administration and the Governors Highway Safety Administration, there were 5,286 motorcyclists killed in accidents in 2016. Out of these fatal accidents, 37% of motorcycle riders were alcohol-impaired at the time of the accident.
In the state of Texas, there were 495 fatalities due to motorcycle accidents in 2016.
Possible Injuries from a Motorcycle Accident
Injuries are extremely common for motorcycle accidents. The severity of the injury is determined by the circumstances surrounding the accident and whether the motorcyclist was wearing proper safety gear. The following are the most common injuries reported after a motorcycle accident:
Concussion
Head Injuries
Traumatic Brain Injury
Neck Injury
Spinal Cord Injury
Road Rash
Muscle Damage
Broken Bones
It is important to seek medical attention after an accident to ensure that you are alright. Some injuries, such as a concussion or whiplash, may not be readily apparent after an accident as adrenaline can mask the pain. Medical professionals can help you spot, treat, and document any injuries caused by the accident. Not only will this aid you in the recovery process, but the documentation can help you claim the compensation you deserve for medical expenses.
How to File a Motorcycle Accident Report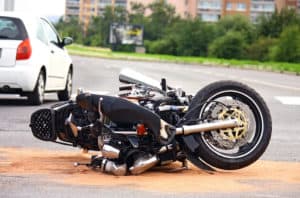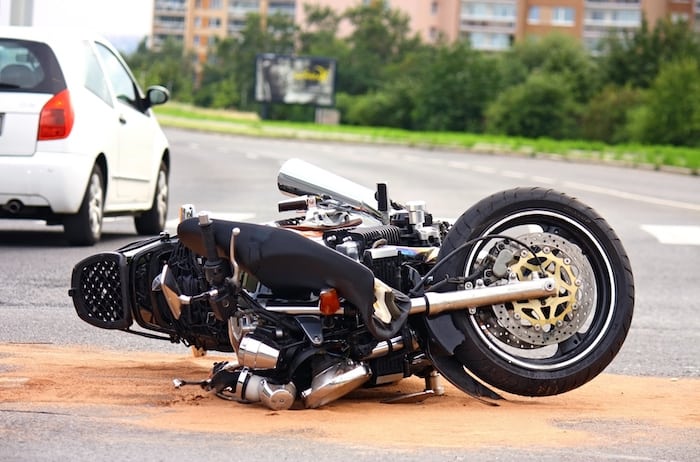 After an accident, it is important to call the police to get the accident officially reported. They will then collect statements from all the parties involved. If you are able to, you will want to collect information from the other driver involved, any witness statements, and then file a claim with your insurance company. This will ensure that any information is successfully documented, which can help you claim compensation.
Once you have successfully made an accident report, do not forget to call the professional personal injury attorneys at Branch & Dhillon, P.C. We have years of experience representing victims who have been injured due to the negligence of another. We understand the importance of giving you space to deal with the physical recovery after an accident, and we can help you heal financially as well. We never charge for a consultation and we offer a no-win, no-fee contract. Our focus is on getting you the compensation you deserve, meaning that we will work tirelessly to make sure you are taken care of. Start on the road to recovery and call Branch & Dhillon, P.C. today!