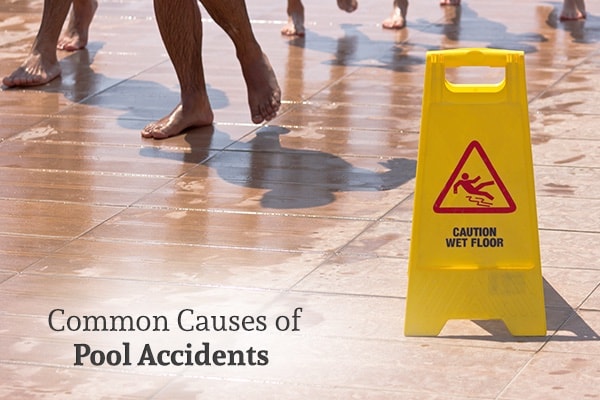 The pool is a popular hangout spot during the hot summer months. Unfortunately, swimming pool accidents are extremely common and can lead to serious injury or death.
The most common victims of swimming pool accidents are unfortunately children, as they are unaware of the potential dangers. By knowing what the most common causes of pool accidents are, you can better prevent them from taking place. Here are the most common causes of swimming pool accidents:
1. Lack of Proper Barriers
Every pool should be guarded by a four-sided isolation fence in order to help keep small children from wandering into someone's yard and falling into their pool. A barrier around your pool can help decrease the likelihood of a drowning accident by 83%. This added safety feature, though initially costly upfront, may also help you save some money on your insurance, avoid a potential lawsuit from an accident, help keep the neighborhood safe.
2. Lack of Close Supervision
The law states that public swimming pools should either have a lifeguard on duty or have proper warning signs about swimming at your own risk if a lifeguard is not present. If an accident occurs and there was no lifeguard or warning signs, the owner of the swimming pool may be liable for the accident.
Children under the age of 14 should never be left in a pool unattended. If a child is injured, panic or even unconscious may set in, resulting in the child drowning. Parents or guardians should be aware of where their children are at all times and monitor their behavior closely.
3. Malfunctioning Equipment or Anti-entrapment Devices
Pool owners are required to equip their pools with anti-entrapment devices on drains and filters. This is to help decrease the chance of hair, clothing, or limbs being sucked in, thus leading to an accident. Most drainage pipes for pools have powerful suction, and – without the anti-entrapment device present – they can cause a person to get stuck or drown.
Other parts of the pool – such as pool lights and stair railings – should be inspected regularly to make sure they are in working order. This is to help prevent the chance of electrocution from a faulty light or drowning from someone being unable to exit the pool.
If you or a loved one has been injured in a swimming pool accident, you may be eligible for monetary compensation from the pool's owner. The attorneys at Branch & Dhillon are here to help you gain compensation for your medical expenses, damages, and mental anguish. Contact us today for a free consultation. We are a no-win, no-fee law firm.