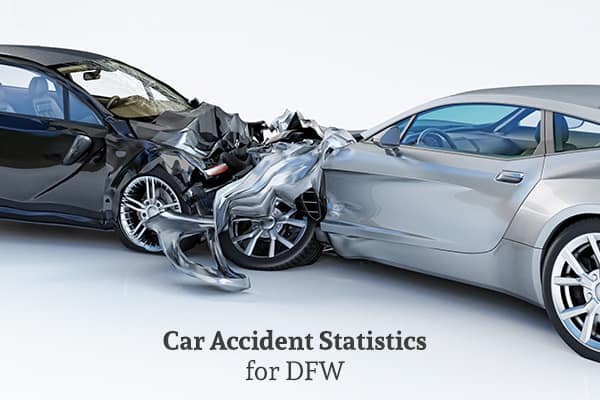 The state of Texas has become notorious for its car accidents. In 2017, there wasn't a single day without at least one death caused by an accident. The death toll for that year was 3,721, meaning that there were approximately 1.36 deaths per hundred million vehicle miles traveled.
The Dallas/Fort Worth Metroplex is one of the most dangerous areas for drivers in the state of Texas. It is important to understand these trends in order to better improve Texas roadways for the safety of drivers. Here are the 2017 DFW Car Accidents statistics:
Dallas/Fort Worth 2017 Accident Report
The Texas Department of Transportation reported that a total of 422,695 accidents occurred in Texas in 2017. The Dallas/Fort Worth area experienced 122,352 of these accidents, accounting for 29% of the total.
The most dangerous places to drive in the DFW area are Dallas, Arlington, and Fort Worth. Here is the breakdown of accident statistics for each of these 3 cities:
Dallas
Total of 32,056 accidents
182 fatal accidents reported with 197 fatalities
913 serious crashes with 1,108 serious injuries
3,913 non-incapacitating accidents with 5,349 non-incapacitating injuries
7,429 possible injury collisions with 13,126 possible injuries
17,757 property damage only crashes
1,862 crashes reported with unknown severity with 8,771 unknown injuries
Fort Worth
Total of 16,446 accidents
103 fatal accidents reported with 110 fatalities
469 reported serious accidents with 592 serious injuries
1,552 reported non-incapacitating collisions with 2,077 non-incapacitating injuries
3,660 reported possible injury accidents with 5,564 possible injuries
9,803 property damage only accidents reported
823 accidents with unknown severity reported with 3,261 unknown injuries
Arlington
Total of 6,788 accidents
25 reported fatal accidents with 27 fatalities
180 serious accidents reported with 212 serious injuries
968 reported non-incapacitating collisions with 1,273 non-incapacitating injuries
1,736 possible injury crashes reported with 2,707 possible injuries
3,458 property damage only accidents reported
2,007 crashes of unknown severity were reported
The Texas city that saw the highest percentage of accidents in 2017 was Dallas. It was averaged that Dallas saw 20 accidents for every 1,000 people.
Texas Car Accident Statistics in July
The month of July saw the most accidents in the state of Texas. Here are the fatal accidents for the month of July broken down by the day of the week:
Sunday saw a total of 48 fatal car accidents
Monday saw a total of 46 fatal car accidents
Tuesday saw a total of 37 fatal car collisions
Wednesday saw a total of 35 fatal car crashes
Thursday saw a total of 46 fatal car accidents
Friday saw a total of 47 car accidents
Saturday saw a total of 54 fatal collisions
The total number of fatal car accidents in the month of July was 313.
Most Common Causes of Car Crashes in DFW
The National Highway Traffic Safety Administration reported that these are the most common causes of vehicle accidents in the DFW area:
Speeding
Failure to perform proper vehicle maintenance
Driving too fast for road conditions
Distracted driving
Aggressive driving
Illegal driving maneuvers
Driving while intoxicated
Unfortunately, car accidents are quite common in the DFW area. Car collisions can lead to serious injuries and, in the worst cases, death. If you or a loved one has been injured in an accident, you may be eligible to seek compensation for damages. Contact the car accident attorneys at Branch & Dhillon, P.C. today for a free consultation. Branch & Dhillon, P.C. offers a no-win, no-fee policy that takes away the risk of seeking compensation and allows you to focus on healing from your accident. Our attorneys will also automatically reduce their fee if the settlement is made before filing a lawsuit in order to adjust to the compensation net of the settlement. Call us today for more information!