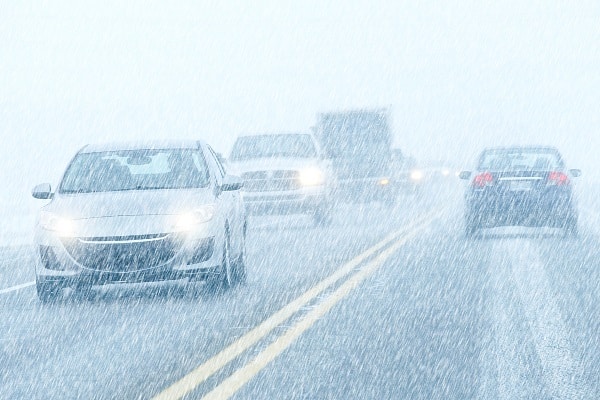 Snowmageddon. Snowzilla. A few flakes of snow, but more likely ice, and people around the DFW Metroplex talk about it like it's the end of the world. Even a light snowfall terrifies people; drivers skid off the road, everyone buys milk and eggs, and schools close. Life is canceled when snow and/or ice hits the Dallas area.
Texans Driving on Snowy Roadways vs New Englanders
New Englanders don't get this. Snow falls, you drive carefully, it gets plowed. Sure, they curse it, and they may bump into each other, but life goes on. They're well equipped with snow tires, chains, shovels, and scrapers. A foot is a snowstorm; anything less is just a flurry.
If a three-inch fall could shut them down, they would essentially have to lock themselves in their homes from December to March. The drivers have a lot of practice driving in snow and their cities own the equipment it takes to manage large amounts of snowfall, including snowplows, pre-snow treatments, and an established methodology. Their roads are built of asphalt to survive a winter of freezing and thawing over and over again.
Dangerous Driving Conditions in the DFW Metroplex
Highways in Texas and other Southern states are often built with concrete. It's more durable than asphalt, but it's slippery when covered with snow or icy conditions. Additionally, Dallas drivers aren't experienced driving in conditions considered abnormal or atypical, such as snow and ice.
Snow makes driving more challenging, no matter where it falls. Texas State departments of Transportation warns:
Winter weather creates unpredictable and dangerous driving conditions. TxDOT strongly advises you to stay off the roads. But if you must drive, please use extreme caution.

Information on road conditions in the state is available at DriveTexas™ or by phone at (800) 452-9292. Travel planning and other tips are available in the TxDOT Safety Guide for Winter Travel.
TxDOT Winter Weather Driving Tips:
Slow down. Speed limits are based on normal road and weather conditions, not winter road conditions.
Maintain at least three times the normal following distance on snow or ice.
Watch carefully for snow removal equipment and stay at least 200 feet behind snowplows.
Use extra caution on bridges, ramps, overpasses, and shaded areas as they tend to freeze first.
If your vehicle starts to slide, ease off the gas pedal or brakes. Steer into the direction of the skid until you have regained traction. Then straighten your vehicle.
Contact Branch & Dhillon Law Firm in Arlington, Texas
If you have been injured in a snow-related car crash, Branch and Dhillon, P.C. can help you to collect the compensation that's rightfully yours and let you focus on your recovery. Contact us for a free consultation.