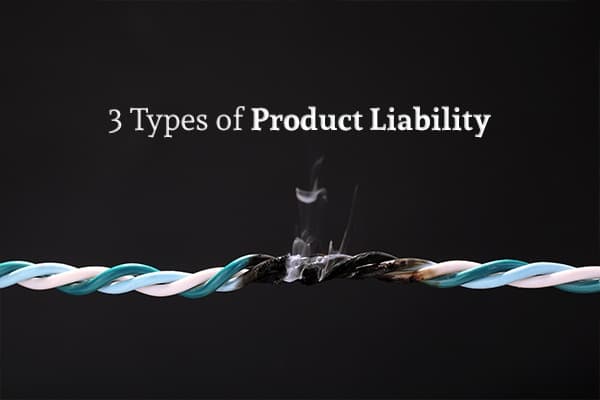 When the manufacturer of a product fails to uphold their responsibility to protect consumers, they can be held legally and financially responsible for the consequences. In such cases, victims can file a product liability claim against the party responsible in order to recover compensation for losses related to injuries and damage. There are three major types of product liability: manufacturing defects, designs defects, and failure to warn. Here is detailed information on the 3 types of product liability.
Manufacturing Defects
Manufacturing defects are the most common type of product liability claim. A manufacturing defect is a flaw that develops during the manufacturing process, thus causing the product to become unsafe. In these cases, the product's original design was not problematic, but the product does not adhere to this original design. For example, an engine that does not conform to the original design but was made faulty during the manufacturing process has a manufacturing defect.
To win a manufacturing defect case, you must prove that a flaw developed during the manufacturing process that made the product unsafe. You must also prove that the defective product was directly responsible for your damages.
Design Defects
Unlike a manufacturing defect that affects a product with a safe design, design defects involve a product that was unsafe from the beginning. A design defect means that the product contains inherent flaws that make the product dangerous even when it is manufactured and used properly.
An example of a design defect would be tires that are prone to blowouts and are unreasonably dangerous because of a weakness in their design and construction.
To collect compensation for injuries or damage related to design defects, you must prove that a design defect exists, the defect is severe enough to make the product unreasonably dangerous, and that the defect led to damage or your injuries.
Failure to Warn
The third type of product liability claim is failure to warn, which focuses on information that is missing from the product's label or posted warnings. In these cases, the product is designed properly and manufactured properly, but the manufacturer fails to warn consumers about dangers related to the product's use.
Failure to warn claims can involve virtually any type of product. However, one of the most common products involved in failure to warn cases is prescription medication. Manufacturers of medications have a legal responsibility to inform consumers of potential side effects and long-term consequences. When these warnings are not included, consumers who experience adverse effects can file claims against the manufacturer of the medication.
To win a failure to warn lawsuit, you must first demonstrate that the product posed a specific danger. Next, you must show that the manufacturer had a legal responsibility to warn consumers of the danger but failed to do so. Finally, you must prove that the manufacturer's failure to warn led to injuries or other documented damages.
Hiring a Product Liability Attorney
If you have been injured or suffered other damages from a product, you may be entitled to compensation from the manufacturer, retailer, or another responsible party. To give yourself the best chance of success in court, you need an experienced personal injury attorney on your side.
At Branch & Dhillon P.C., we understand how serious the consequences of using a defective or dangerous product can be. Regardless of your situation, we are dedicated to helping you recover compensation from the party responsible. To learn more about our services or to schedule a free consultation with a member of our team, please contact Branch & Dhillon P.C. today.