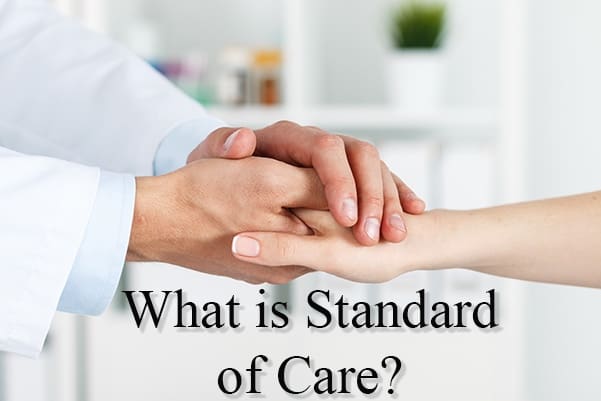 When you're sick, you trust in doctors and nurses to solve your ailment. However, when a healthcare professional fails to follow the standard of care, leading to a worsening condition or a new injury, medical malpractice may have occurred. In order to prove that your new ailment or worsening condition is due to the negligence of a healthcare professional, know the standard of care that is expected. This article explains how standard of care is established so you can successfully claim the compensation you deserve.
Standard of Care Defined
Standard of care is important because it is the foundation of any medical malpractice case. It is defined by the type of medical services and the level of care guidelines used by similar health care professionals in similar conditions. In order words, it is important to know if another equally-skilled doctor or nurse would have acted similarly or given the same treatment under the same circumstances. If not, then you may have a medical malpractice claim.
How Does Standard of Care Become Established?
Cases dealing with medical malpractice claims will often need an expert witness to testify on behalf of the plaintiff. This witness should be in the same field as the health care professional in question and should be considered a specialist in his or her field. He or she must testify to the following questions:
What is the standard of care in his or her field?
How was the health professional in question acting below the standard of care?
How was the plaintiff harmed by the treatment or action of the health care professional in question?
Greater Standard of Care for Specific Fields
In some cases, there is a more complex standard of care, which is due to the dangerous nature of the field. Professionals in these particular fields often undergo rigorous training to be certified to provide care. The following health fields typically fall under this category:
Neurology
Allergy
Radiology
Internal medicine
Anesthesiology
Ophthalmology
Pediatrics
Cardiology
Claim the Compensation You Deserve
When it comes to medical malpractice claims, enlist the help of a personal injury attorney. The dedicated team at Branch & Dhillon, P.C. have been helping clients get compensation for medical malpractice claims for years. We find expert witnesses and ensure that we have all the facts so you receive the compensation you deserve. Our firm also follows a no-win, no-fee policy — if we don't win your case, you do not owe us a thing. Our lawyers are dedicated to protecting you, which is why they will automatically lower their fields if your case settles out of court. If you or a loved one has been injured by the negligence of a doctor or other healthcare professional, call the personal injury attorneys at Branch & Dhillon, P.C.