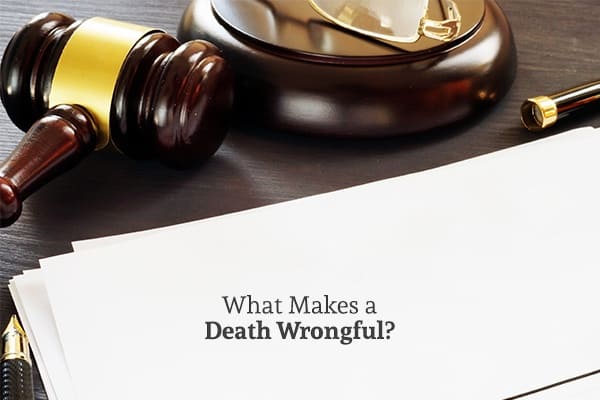 Each year, tens of thousands of people die as a direct result of another's actions. Medical malpractice and automobile accidents account for the majority of deaths, coming in at 90,000 and 45,000, respectively.
What distinguishes a wrongful death is that it was due to someone's negligence or intentional action. However, wrongful death cases are not always cut and dry. Here is detailed information on what causes death to be classified as a wrongful death:
Accidental vs Wrongful Death: What's the Difference?
Wrongful death is defined as the death of a human being as the result of a wrongful act of another person. Wrongful acts can include intentional acts, negligent acts, and acts performed when someone is breaking a criminal law. Accidents, on the other hand, occur due to an unintentional action of another where the causes of the accident cannot be attributed to negligence.
So, what exactly is negligence? Negligence is the failure to take reasonable actions to prevent an injury or death. For example, if someone dies in an automobile crash, it may be considered a wrongful death if the other driver was speeding. The offending driver was not following traffic laws, which is a reasonable thing to expect of any driver; therefore, they were negligent.
Similarly, if someone knows that a railing on their balcony is loose and a visitor falls to their death, the homeowner would be considered negligent since they didn't take the necessary steps to fix the railing or prevent guests from going out on the balcony.
Examples of Wrongful Death Cases
As mentioned before, wrongful death claims involve situations in which someone intentionally or negligently causes the death of another. Here are a few examples of deaths that would be considered wrongful deaths:
Homicide (regardless of whether the intent was to scare, hurt, or kill).
Deadly car wrecks where drunk driving, speeding, or reckless driving is a factor.
The manufacture of defective products, either knowingly or by failure to regulate the production/inspection process.
Administering or prescribing a dangerous medication, an overdose of medication, or a medication that the patient is allergic to.
Assaults on unsafe residential or commercial properties.
As you can see, there are many tragic incidents that may, in fact, be wrongful death cases. If you think that a loved one has been the victim of such an incident, contact a lawyer without delay.
Types of Compensation in Wrongful Death Cases
The family members of wrongful death victims can seek monetary damages in a number of categories, depending on their relationship to the decedent and certain other factors. Here are the four major types of wrongful death damages:
Financial Losses –If the decedent provided financially for the family, survivors may be able to collect money based on the deceased's expected earnings, pension, and inheritance. Monetary damages may also be sought to cover medical bills and funeral costs.
Loss of Consortium –Those who had a close relationship with the deceased may seek monetary compensation for the loss of that relationship.
Mental Anguish –When a loved one dies, their family experiences unbelievable grief and emotional distress, and they may be able to seek compensation in these circumstances
Punitive Damages –These damages serve as a punishment. The person or persons who caused a wrongful death may be forced to pay an amount commiserate with their contribution to the incident and the level of negligence or recklessness they displayed.
As in all lawsuits, the harmed party must be able to prove that they suffered a loss under one or more of these categories to win their case.
Wrongful Death Claim Vs. Survival Action
The above scenarios relate to wrongful death claims. However, survivors may have another option for compensation: a survival action. A survival action claim allows loved ones to sue on behalf of the decedent.
They can seek damages for the deceased's pain and suffering, loss of income, medical bills, and loss of joy of life that all occurred between the accident and the decedent's actual death. You do not have to choose one or the other; loved ones can file both wrongful death and survival action claims.
If you have lost a loved one due to the negligent actions of another, you may be entitled to compensation. Call Branch & Dhillon P.C. in Texas for a free consultation. We'll discuss your circumstances and help you figure out the best steps to take after your loved one dies.