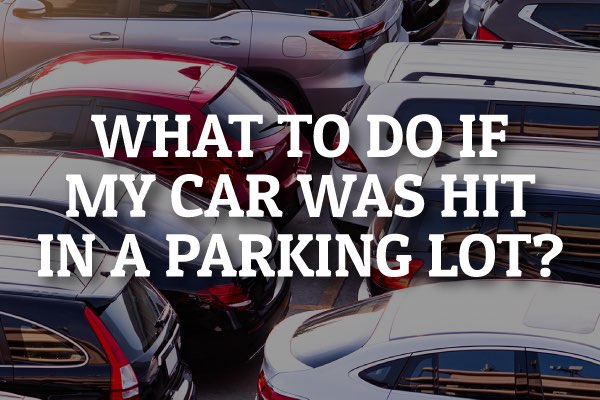 People everywhere are rushing to finish their to-do lists, especially during the holiday season. With people's minds being occupied, parking lot accidents are unfortunately a common occurrence. Whether it be at the mall, supermarket, or your place of business, a fender bender or a ding in your car's door or bumper can add to the stress.
Being prepared and knowing what to do when an accident takes place can help alleviate the stress and ensure that you and your family are safe. Branch & Dhillon, P.C. firmly believes that knowledge can help save lives. In this, we make it our responsibility and as well as our pleasure to help educate our clients. Here is what you should do if your car was hit in a parking lot.
I Was Involved in a Car Accident in the Parking Lot
If you were involved in a car accident with another driver in a parking lot, treat it as you would if you were on the road. Here is a quick review of what to do if you were involved in an accident:
The first thing to do is to make sure that you, your passengers, and the driver and passengers in the other car are not injured.
If someone is injured, contact emergency medical services right away. Do not attempt to move the injured party unless he or she is in immediate danger.
Contact the police to ensure that a police report is filed.
Exchange information with the other driver. This information should include the following:

Name
Phone number
Address
Insurance information
License plate number

Take photos of the accident. These photos are essential to helping paint a clear picture of what happened during the accident and can help strengthen your compensation claim.
Notify your insurance company and car accident attorney.
My Parked Car Was Hit, but the Other Driver Left a Note
Proper etiquette and common human decency would hopefully lead the individual who hit your car to leave behind a note telling you of the accident. This note should have at least the person's name and number and insurance information. If he or she didn't leave behind insurance information, contact the individual to get it.
Have an auto mechanic check out your car before filing a claim. This will help you determine damage and repair costs. If the damages are minor, such as paint scratches or a small dent, then it may be worth talking to the other driver to see if you can get them to pay for the damages out of pocket. This will help save you from paying a deductible on the damages.
However, if the damages are major, contact your insurance policy or the other driver's insurance policy to submit a claim.
What if It Was a Hit-and-Run Accident?
Hit-and-run accidents are common, especially when it comes to parked cars. If you find your car was struck by another vehicle, but there was no note and the driver didn't stick around, here are the steps to take.
First, check to see if there were any witnesses or video cameras that may have seen the accident. If there are pedestrians, retailers, or a parking lot security guard, ask them if they saw anyone hit your car or ask to go over the security footage. If you can find witnesses, write down their information so that the police or your car accident attorney can follow up after.
Secondly, file a police report about the accident. This will help the police obtain security footage. (This is especially true if the owner of the building requests to have the police look over the footage instead of you.)
Third, take photos of the damage and where it happened. This can help document the damages and paint a picture as to what happened.
Finally, you will want to file an insurance claim or call a car accident attorney. While we will do everything in our power to ensure that you get the compensation you deserve, the options are limited. This is because, despite the above efforts, there is still a chance that the other driver may not be found. If you find yourself in this situation, you can file an insurance claim under your collision insurance or go through your uninsured motorist property damage coverage.
Branch & Dhillon's Car Accident Attorneys Are Here For You!
Whether it was a parking lot accident, multi-car-pileup, or rear-end accident, you can rely on our team to be there for you. We work hard so that you can get the compensation you deserve and set your life back on track! Contact the dedicated attorneys at Branch & Dhillon, P.C. today to schedule your free no-obligation consultation!