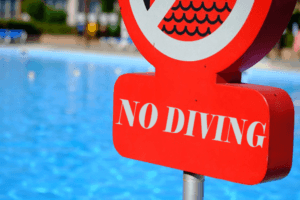 Texas is famous for its intense summer heat, but thankfully a dip in the swimming pool is the perfect remedy. Cool sparkling waters and good company can make any summer great! However, swimming pool accidents are fairly common. Make sure your family and guests stay safe around the swimming pool by following these safety tips!
Swimming Pool Safety Talk
One of the biggest ways you can help ensure that your family stays safe during their trips to the pool during the summer is to talk to them about proper pool safety. Some of the reminders you want to give them include:
Rough-housing is not allowed in or around the pool.
Diving in shallow water is prohibited as it can lead to severe head injuries.
Younger swimmers should stay in the shallow end of the pool and always be accompanied by an adult.
Always listen to the lifeguard on duty.
It is also important for children to be aware of the nearest exit of the pool at all times. In case of an emergency, they need to be able to get out of the pool quickly and calmly.
Swimming Lessons
Teaching children proper water safety is important but it is equally important for children to know how to swim in the water. Knowing how to react to common situations that swimmers face, such as fatigue and muscle cramps, can help prevent injury, panic, and allow them to feel safer in the water.
Ensure That All Equipment Is Working Properly
It is important to inspect all steps and ladders for stability. Loose railings on steps can lead to injury or prevent an individual from getting out of the pool. Even if you are at a public pool and the railings seem loose, let the pool manager know, and do not get into the pool until the problem is resolved.
Pool owners should ensure that pool and spa drains are properly covered with an anti-entrapment device, which is designed to prevent tragic accidents involving individuals caught in the drain's suction.
What Do I Do If An Injury Does Occur
If a swimming pool accident does occur, seek medical attention for the injured person immediately. Whether it's obtaining a first aid kit for a minor injury or calling 911 in cases of true emergencies, taking these steps can prevent further injury and ensure that the individual gets the care he or she needs.
If the injury was caused due to a negligent pool owner (e.g., a broken railing that caused a fall), then you could be eligible for compensation. The dedicated team at Branch & Dhillon, P.C. can help you claim the compensation you deserve! We have been helping individuals in the DFW metroplex on the road to recovery for years and fight hard to defend your rights. We are a no-win, no-fee law firm, protecting you from the risks that are often involved in filing a lawsuit. Contact our team today for a free no-obligation consultation.