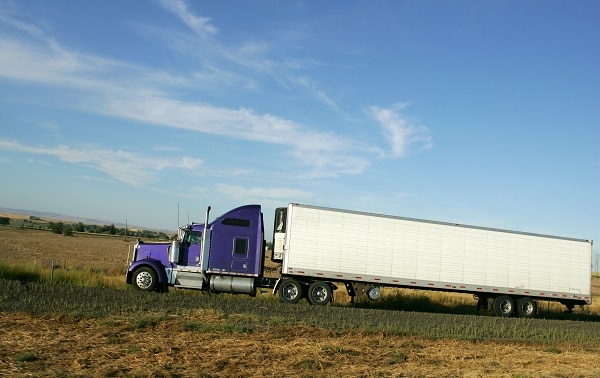 Eighteen wheelers are essential for transporting a wide variety of goods across our country, but due to their size and weight, they also pose a much higher risk of causing serious injury when involved in a crash. According to the Texas Department of Transportation, there were a total of 39,193 commercial truck and bus accidents in 2019. One out of every eight fatal automobile accidents involved an 18 wheeler.
The personal injury attorneys at Branch & Dhillon, P.C. is dedicated to giving our community the information they need to keep themselves safe while on the road. Our lawyers have created this guide to give you the information you need to know about tractor trailers and what to do in the event of an accident with a tractor trailer.
What Makes Tractor Trailers So Dangerous?
While tractor trailers are invaluable transportation vehicles, they can be dangerous to other drivers, especially when there is a negligent driver behind the wheel. Certain aspects of tractor trailers, such as the following, make them more dangerous:
1. Tractor Trailers Are Significantly Larger Than the Average Passenger Car
Legally, tractor trailers can weigh up to 80,000 pounds when carrying a full load. Their average length is anywhere from 70 to 80 ft. That makes them much larger than the average passenger car, which is only 3,500 pounds and has a total length of 12 ft.
Due to their larger size, tractor trailers have a higher momentum while traveling at the same speed as a passenger vehicle, making their stopping distance much greater. Because of this, tractor trailers need to be given plenty of space by other vehicles so that they can maneuver safely in traffic or during a sudden stop.
2. Tractor Trailers Are Made Up of Two Pieces
Unlike passenger vehicles, which are made up of one solid piece of steel on the body, tractor trailers consist of two independent pieces: the cab (the tractor) and the trailer. In some cases there can be two trailers.
These two separate pieces make maneuvering an 18 wheeler a bit more challenging. Drivers must take turns with care to avoid jackknifing and rolling over. They also must check the trailer before each drive to ensure that it is properly secured to avoid it from separating while on the road or during an accident.
Tractor Trailers Have Blind Spots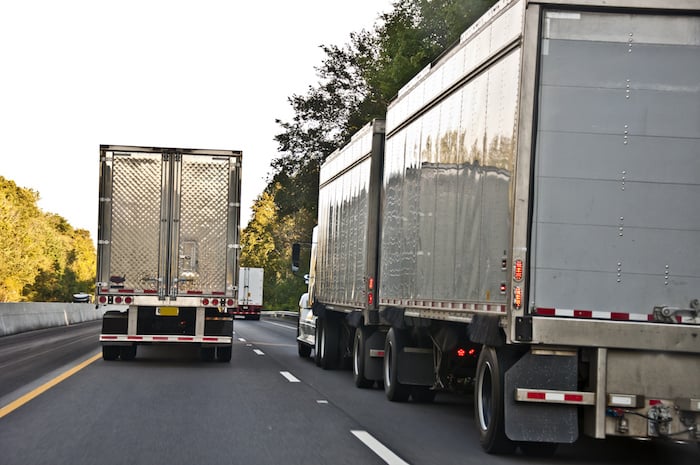 Every vehicle naturally has blind spots but commercial trucks have much longer and wider blind spots due to their incredible size. These blind spots are as follows:
Directly behind the truck—this blind spot extends about 30 ft behind the truck.
In front of the truck—this blind spot extends about 20 ft in front of the truck.
On both sides of the truck—this blind spot starts at the truck's side mirrors and continues down each side of the truck. On the left side, this blind spot is extended outward by one lane.
Tractor Trailers Can Carry Hazardous Cargo
Some tractor trailers carry hazardous cargo such as gasoline, toxic chemicals or fireworks. These materials are at an extremely high risk of catching fire, exploding or creating a toxic spill after an accident.
What Are the Most Common Causes of Semi-Truck Accidents?
Many different factors that can lead to a tractor trailer accident. However, these are the most common:
Brake malfunctions
Driving too fast for road conditions
Hazard on the roadway
Drug or alcohol usage
Tire problems
Illegal maneuvers or turns
Distracted driving
Cargo shift
What Are the Most Common Injuries After an 18-Wheeler Accident?
Due to their massive size and sudden force, drivers and passengers of smaller vehicles involved in an accident with an 18 wheeler have a high chance of sustaining serious injuries or even dying. Common injuries from a tractor trailer accident include:
Back injuries
Neck injuries
Paralysis
Disfigurement
Burn injuries
Limb amputations
Who Are the Possible Liable Parties in an 18-Wheeler Accident?
Eighteen wheeler accidents are known for their devastating financial costs, as victims of the accident often have hefty medical bills, lost wages, damaged property and long-term personal care to deal with. Thankfully, the state of Texas protects individuals after an accident by allowing them to seek compensation from the responsible party. Individuals not at fault in a tractor trailer accident may seek compensation from the following parties:
Driver
Owner of the truck
Company that leased the truck
Company that employed the driver
Manufacturer of the vehicle or its parts
Loader of the truck's cargo
What If I Was Injured In An Accident?
If you were injured in an accident with an 18 wheeler, you don't have to face it alone. The team at Branch & Dhillon, P.C. can help you gain the compensation you deserve by guiding you through the legal process to hold the liable parties responsible. Our team works hard so that you can focus on your recovery. Contact our team today for more information on our services or to schedule a free no-obligation consultation with one of our experienced car accident attorneys!
Read Our Latest Articles: